Sparks Bristol
A vibrant, positive venue where visitors can shop, recycle, and explore what a greener, fairer and creative future could look like
Venue > Sparks Bristol
Location info – Show map

Sparks Bristol, 78 Broadmead, Bristol BS1 3DS

Opening times

Monday to Friday:

11.00-22.00

Weekends:

11.00-22.00

Contacts

Email: info@sparksbristol.co.uk

See individual venues for features and hire rates.
Introducing Sparks Bristol – an art and sustainability hub in Broadmead, Bristol. A partnership project brought to you by Artspace Lifespace & Global Goals Centre with creative design from The Invisible Circus
Breathing new life into the old M&S building on a 'meanwhile use' basis until the site is redeveloped, the building is used as a hub for local artists including artist R&D space, a reuse shop providing recycled goods, repair services, and education projects for schools. There are installations, stalls and workshops to demonstrate how to take easy, (and often money-saving) actions on climate, equality and wellbeing – the themes of the Sustainable Development Goals.
There is a range of private studios / office spaces available for artists to rent at affordable rates. View and express interest in desk space (18 desks remaining) and private studios (limited availability remaining) by contacting bookings@sparksbristol.co.uk
Event spaces are available at affordable prices on each floor
Full details and to book https://bit.ly/SparksDOI
Opening Hours 9am-10pm and other hours by arrangement
Website and more info coming soon.
Sparks launches on May 13th 2023.
Since the store closed earlier this year we have been working hard to find an appropriate meanwhile use for the old M&S building until a longer-term plan is ready. Artspace Lifespace and the Global Goals Centre are two great local organisations and I'm glad that they'll be putting both arts and sustainability at the heart of re-animating the space. I look forward to seeing the new hub open from April next year.

Mayor of Bristol, Marvin Rees Dec 2022
Venues for hire at Sparks
Sparks Bristol has three floors of of spaces to hire on a short or long term basis. See the Sparks Bristol website for full details.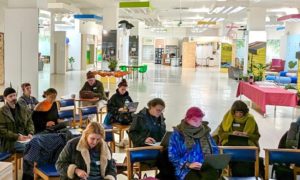 Sparks Bristol – Dept of Imagination
The Department of Imagination at Sparks Bristol provides a range of creative spaces where people can harness the power of collective imagination.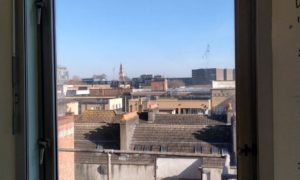 Sparks Bristol Studios
Sparks Bristol offers coworking creative desk space and private studios / office space on the 2nd and 3rd Floors of Sparks Bristol.