Bringing Outdoor Art, Heritage, Nature and People Together.
We Are From Dust ArtSpace Ashton Court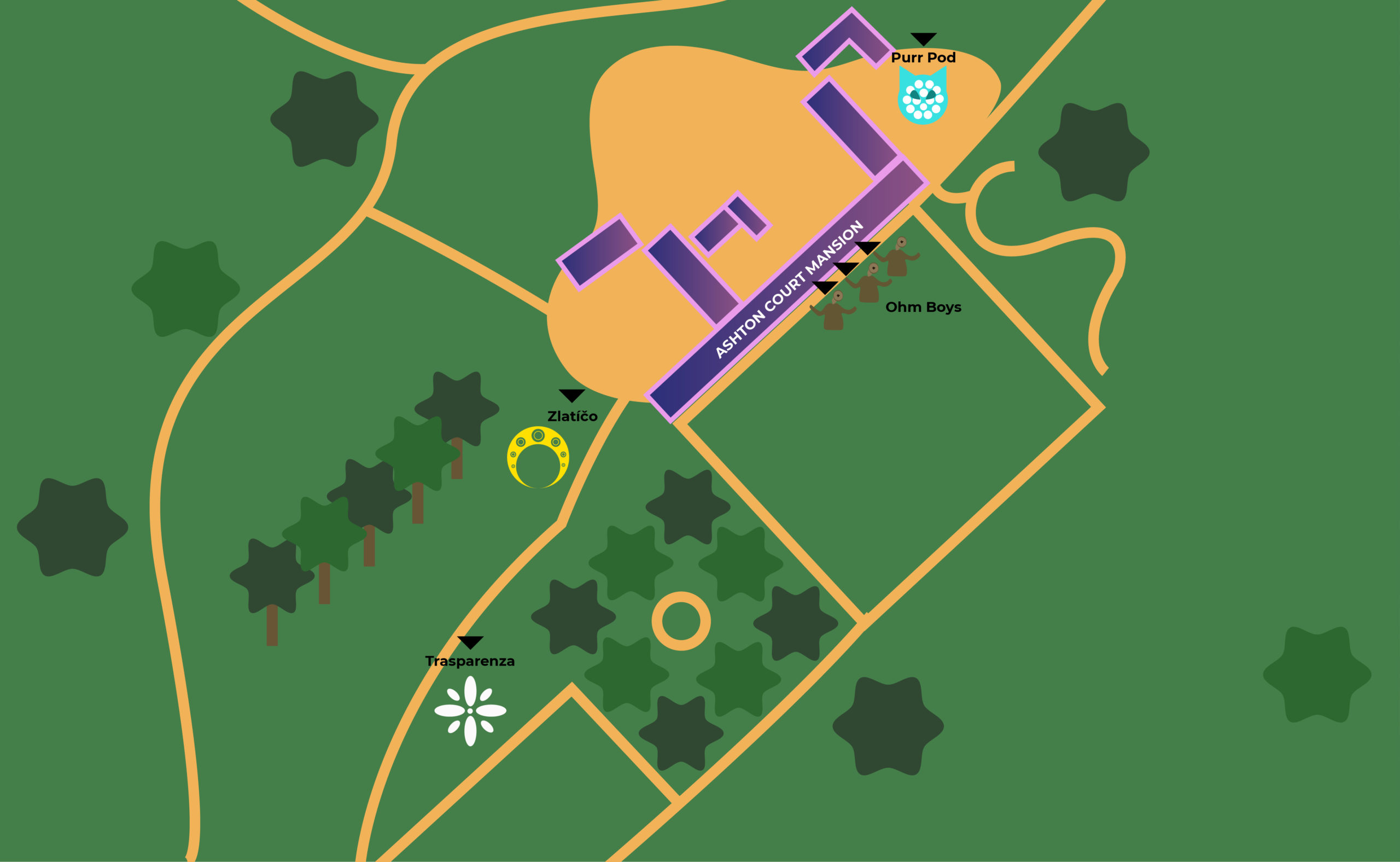 ArtSpace Ashton Court is a collaboration between We are from Dust and Artspace Lifespace, an exploration of the power of outdoor art to connect people and places supported by the Bristol Parks team and with funding from We are from Dust and Arts Council England.
The pandemic has been a time of separation, anxiety, isolation and grief, and we wanted to create an art space for people to come together in a safe, outdoor environment. Ashton Court Estate lies at an intersection of Bristol and the surrounding areas and acts as an intermediary space for families and friends to meet and look over the city whilst being immersed in nature. We are From Dust ArtSpace installations focus on reflection, play, and our voices being heard. The public will be able to explore and interact with artworks that invite introspection and celebration of the human condition in a rapidly changing world. The grounds of the estate provide a safe place to do so and spend time together as a community. The artists selected for this exhibition of work are leading members of artist-led communities, commenting on the important contemporary issues that affect every one of our daily lives.
#ArtSpaceAshtonCourt @wafdust @artspaceuk #AceSupported #AshtonCourt #AshtonCourtEstate #OutdoorArt #PlayfulArt #PaigeTashner #TransitionArt #CjayRoughgarden #ActivistArt #HugoFarmer #TransformativeArt #Transparenza #Andrea Greelees
Ashton Court is the perfect location to repurpose and exhibit large sculptural installations some of which have only been seen overseas and instigate a conversation about the need for more affordable spaces for UK artists to have a place to build and exhibit large scale work rather than it just been seen as an art medium for the privileged.

Yomi Ayeni, Curator of ArtSpace Ashton Court.
COVID-19 – VISITOR ADVICE
Due to lockdown restrictions installation of Transparenza, our showcase afternoon of Luma and Trifiid from local artists AirGiants and walkabout performances has had to be postponed until better times. If you are local, do come and explore the three installations that are in place. Please remember to be respectful of maintaining 2m distance from others and remember to bring and use hand sanitiser or wash your hands if you are touching any of the installations.
BRISTOL BOO – Paige Tashner
PLAY
Many people have turned to pets to offer emotional support and pet ownership has soared in Britain during coronavirus. Quarantine conditions can have several negative psychological effects, including post-traumatic stress symptoms. Play allows us to externalize our stories, where it can then be better understood and reworked therapeutically.
The Bristol Boo Purr pod is designed to be playful, for people to interact with the sculptures, something which is often off limits in the traditional gallery space or museum setting. This playful giant cat invites participation, it lights up and purr when interacted with.
https://www.purrpods.art/post/world-wide-purr-pods
Location: Ashton Court Courtyard
OHM BOY – Hugo Farmer
ACTIVISM
Movements, organizations and activists congregated online to support each other during Lockdown and push for change in new and creative ways, with increased collaboration and sharing initiatives, support and resources to respond to the COVID-19 crisis within the activism community at large via webinars, conferences, training tools, and crowdsourced online documents.
A crowdsourced research has documented over 140 methods of non-violent action during the pandemic, showing that people power is flourishing within this unprecedented global crisis.
We selected Bristol based artist Hugo Farmer to represent this activism, his works are based around the theme of our human rights and in particular freedom of expression. Bristol born Hugo Farmer is an artist and sculptor and has worked as a boat builder, carpenter, sound engineer, producer and set designer.
http://hugofarmer.com/ @hugofarmerart
Location: Ashton Court Mansion South Front
Zlatíčko – Cjay Roughgarden
Transitions
Taking inspiration from natural forms, and structures, Cjay creates simplified abstractions of primary organic materials or the shape of motion. She draws on the geometric harmonies humans are hardwired to find pleasing, due to their proliferation in nature and the cosmos. Zlatìčo is inspired by the work of Alfonse Mucha. Zlatíčko is a phrase that means "little gold," and is used as a term of endearment, such as "sweetheart."
As a person with Czech lineage Cjay enjoyed connecting with the art of one of her ancestral homelands and bringing it out of the conceptual, two dimensional realm and into life where people can interact with it. This past year has challenged human connections, walking through the arch represents transitioning from a place of solitude and looking inward to rekindling those human connections and being reunited with our loved ones.
Cjay Roughgarden is an Oakland, California based artist and professional metal fabricator. Her primary mediums are steel, aluminum, and brass.
www.cjayroughgarden.com, @smoothgarden
Location
Grass in front of the South West Wing stair tower.
COMING SOON….
TRASPARENZA – Andrea Greelees
TRANSCENDENCE
TRASPARENZA, Temple of Transparency, celebrates emerging from darkness into light. This transparent installation is a playful and light-hearted foray into fifteenth century Florence, a whimsical tribute to the genius of Leonardo and the glories of the Italian Renaissance. After the plague came the renaissance, the coronavirus pandemic could trigger a new renaissance. As we emerge from this period of relative darkness, we are able to recognise the signs of change and growth: celebration, grief, protest, recognition. This work invites the viewer to walk inside and around the filigree walls, palace-like and celebratory of success and positive change.
Trasparenza is a transparent structure made of clear acrylic panels laser-cut with intricate detail and assembled without the use of screws and nails. The frothy fretwork of the twelve turreted towers is inspired by the Duomo of Milan; the imagery of the lower panels is derived from the heraldic emblems of the master guilds of fifteenth century Florence, and the motifs on the inner panels represent Leonardo's lifelong preoccupations including geometry, architecture, mechanics, hydrodynamics, aerodynamics, anatomy, drawing and painting. The sculpture at the centre of the installation – also entirely transparent – is named 'Vitruvia' and explores the concept of 'Divina Proportione', using the body of a woman rather than a man.
https://www.andreagreenlees.com/
Location: Walled Garden
We are from Dust Audio Installation
Artist TBA
Coming Spring 2021 Location: Pond