Bringing Outdoor Art, Heritage, Nature and People Together.
We Are From Dust ArtSpace Ashton Court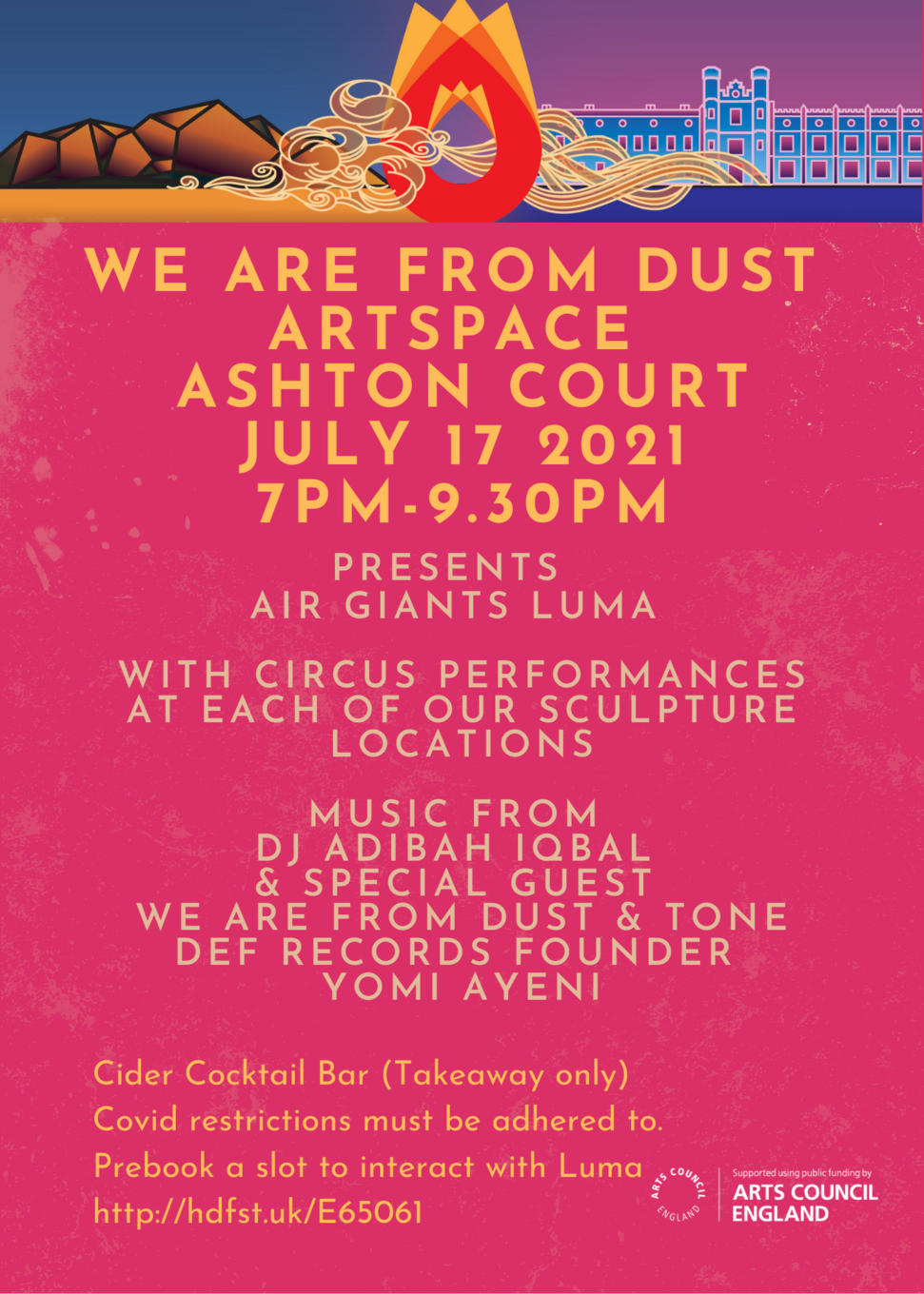 Artspace Ashton Court is a collaboration between We are from Dust and Artspace Lifespace, an exploration of the power of outdoor art to connect people and places supported by the Bristol Parks team and with funding from We are from Dust and Arts Council England.
The pandemic was time of separation, anxiety, isolation and grief, and we wanted to create an art space for people to come together in a safe, outdoor environment. Ashton Court Estate lies at an intersection of Bristol and the surrounding areas and acts as an intermediary space for families and friends to meet and look over the city whilst being immersed in nature. We are From Dust ArtSpace installations focus on reflection, play, the controversy around free speech, equality and transformation. We selected artworks that invite introspection and celebration of the human condition in a rapidly changing world. The works we have selected are playful and invite interaction as well as introspection on contemporary issues.
Please freel free to tag us on any posts you add to Social Media #ArtSpaceAshtonCourt @wafdust @artspaceuk #AceSupported #AshtonCourt #AshtonCourtEstate and we may repost and share on our social platforms. The art is free to enjoy for non-commercial use but the work is protected by IP Copyright and permission and agreement for use commercially must be obtained by We are from Dust in return for an agreed donation or hire fee.
Ashton Court is the perfect location to repurpose and exhibit large sculptural installations some of which have only been seen overseas and instigate a conversation about the need for more affordable spaces for UK artists to have a place to build and exhibit large scale work rather than it just been seen as an art medium for the privileged.

Yomi Ayeni, Curator of ArtSpace Ashton Court.
COVID-19 – VISITOR ADVICE
Please adhere to Covid-19 distancing safety measures. We've got the fresh air covered by bringing you art outdoors, but remember Hands – Face – Space! And if it is busy, protect others and wear a mask.
Help bring more public art to Ashton Court
With thanks to Arts Council England #HereForCulture and especially to We are From Dust who funded the majority of this project. If you enjoyed visiting the artworks at Ashton Court and would like to continue to support our outdoor art project at Ashton Court then please donate to our fundraiser. The money raised will be used to pay artists for the lease of their works, add other pieces to the exhibition, cover our insurance costs, and help with some admin.
Bristol Boo (Purrpod)
Artist: Paige Tashner
PLAY – The Courtyard
Transparenza
Artist: Andrea Greenleez
RENAISSANCE – Walled Garden
Freedom of Speech
Artist: Hugo Farmer
ACTIVISM – South Lawn
Dodeca
Artist: Josh Haywood & Andrea Greenlees
METAMORPHOSIS – Rose Garden
Zlatíčko
Artist: Cjay Roughgarden
TRANSITIONS – South Stair Tower
We Are From Dust
Poem: Edson Burton
Installation : Drew Batchelor – Formal Garden