Residency Overviews
During the pandemic, we were unable to fill our spaces as much as we'd have liked. Whilst this was disappointing, we worked to turn this into an opportunity, and in January sent out an Open Call Out for residency applications across all our spaces— the gallery, the dance studio, and the circus training space. Highlighted here are just a few of the incredible projects that were developed in our spaces over the last year. We would like to thank all artists that filled the building with creativity and took a stop at The Island as part of their journey.
Caroline Bugby
Caroline joined us for a week-long residency in February, so she could experiment with sculptural processes ready for an exhibition later in the year, at Sevenoaks Kaleidoscope gallery in Kent. The gallery allowed Caroline to see how the sculptures would relate to one another. This was especially important for Caroline's work, which were large-scale sculptures partly based on research she'd undertaken alongside archaeologists working in Kent, excavating a 3rd Century Roman villa.
Popelei
In March, Popelei came to our gallery space and installed a toilet. "The Island has been Popelei's artistic home since Tamsin (AD) moved to Bristol in 2015. Being part of the community at The Island, and the support that comes with that, has had such a positive impact on our work. The Island supported us with space in Old Market during Papaya Fest, our anglo-latinx theatre & music festival in October 2019 as well as offering connections with other artists with whom we've had the pleasure of working on our international scratch performance 'Juicy Bits'. We truly value the relationship we have formed with The Island as part of our presence here in Bristol and hope it continues!"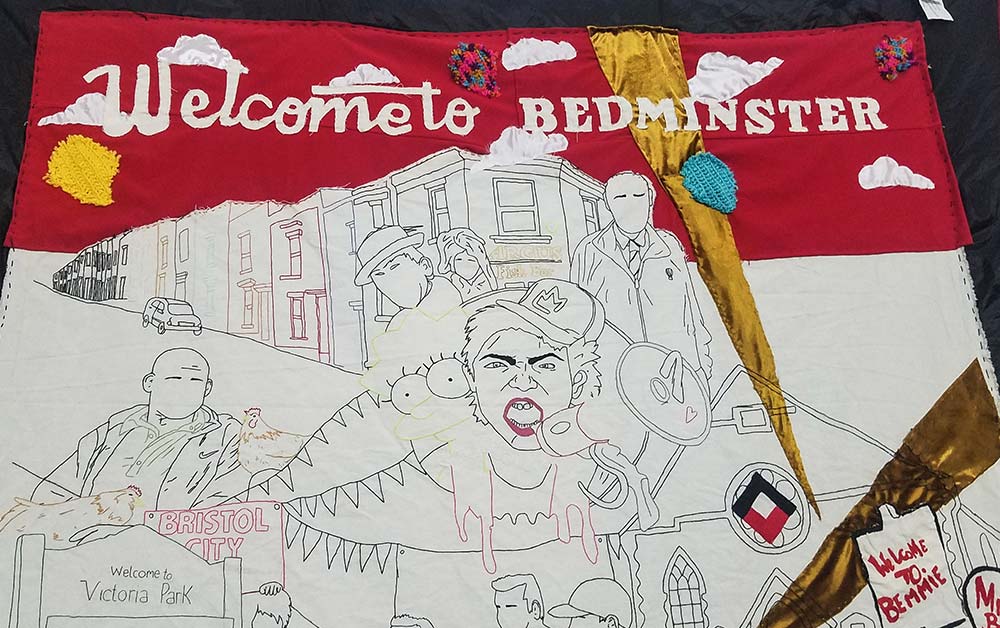 Heather Gibson
Heather worked on her residency for a week in March 2021, and led to an exhibition in August. Shining a spotlight on three different Bristol neighbourhoods, SPARED_CHANGE explored the sense of community within those neighbourhoods, whether you have a traditional home or not. Three sleeping bags were used as bases for large textile banners, richly embroidered with emblems of each of the areas they represented. Heather's work urges you to be compassionate and work toward a more equitable future.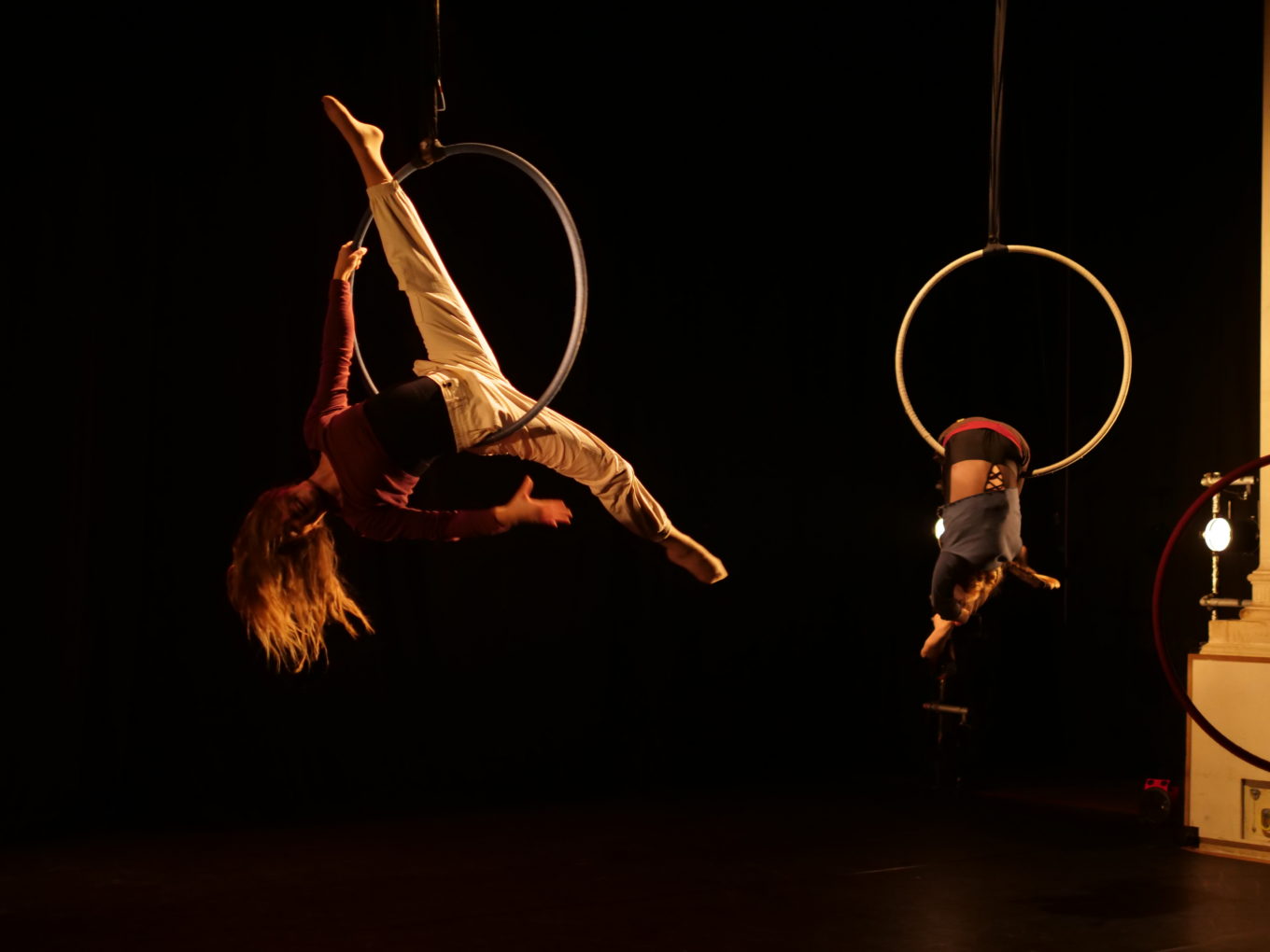 Saskia Collyns and Maxine Sircana (Inspiral)
In April, Inspiral came to work on 'Interlaced', a piece exploring the nuances within the experiences of Neurodiverse individuals. "The purpose of our residency was to dedicate time to explore and develop 'Interlaced'. To have a whole space where we could play together, push our ideas, be confused, be surprised was essential to the development of 'Interlaced' but even more so our company relationship. We went into the residency with lots of openness and without the pressure of having to finish the show. The gift of time on residency allowed us to make new material out of total mistakes and also realise where holes in our current material were. We left the residency with a much clearer idea on how we like to create work and we are already looking forward to when we can next do a week of rehearsals."
Willow Vidal-Hall
Willow's work explores female experience, gender inequality, and female relationships. She joined us in mid May 2021 and found the time invaluable. "This building being available for cultural use has allowed me, as a performer and creator, to explore, develop and grow, both personally and professionally. To find opportunities to be offered residency space to create work is few and far between and it is vital for creators who are exploring new ideas and bringing new art/creations to their communities and the world. Artspace Lifespace is a vital space in Bristol for many local creatives from many different disciplines and artforms, it has helped me through this residency and I know it has, and can continue to, help many others."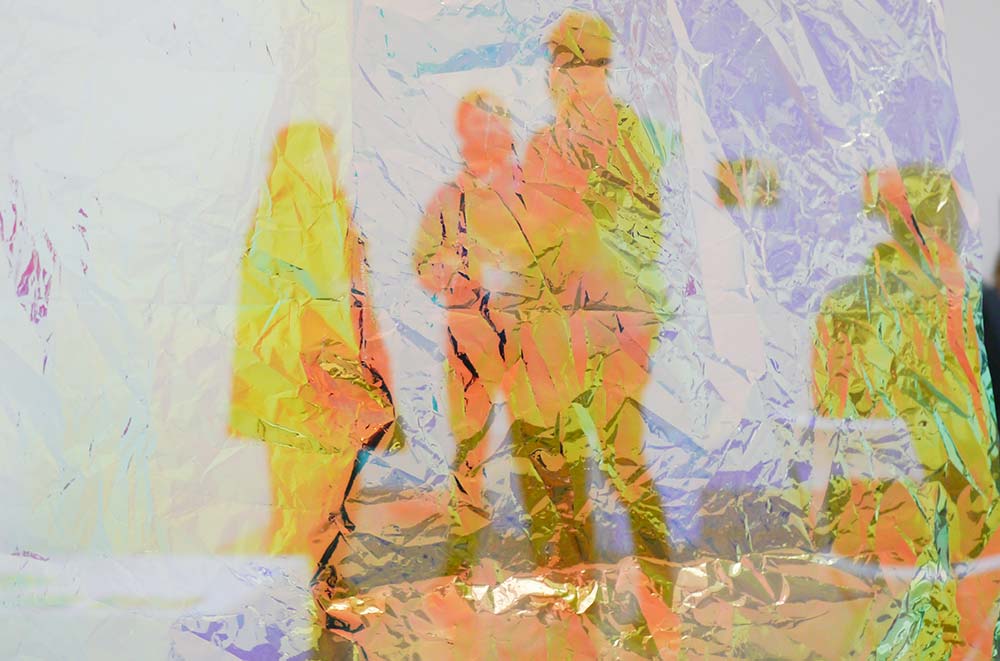 Tara Silverthorn
if a bee falls in(to) a box is a home performance package inspired by naturally occurring optical and audible phenomena.
Alchemist artists Daniel Lercher, Asher O'Gorman and Tara Silverthorn gathered remotely from their respective cities (Vienna and Bristol) to work within one another's fields – choreography, visual arts and sound. With the help of The Island, they crafted and curated packages for two people to use at home after sundown, creating a performance within their own four walls.
Inside the packages lie a collection of materials and the guidance to enter a sensuous home performance and conjure visions; at once scientific and magical, ancient and futuristic.
The packages were released through WUK performing arts, Vienna in June 2021.
Natalie Verheagan
In May, Natalie joined us to work on a piece sampled from 'Women who run with the wolves' and adapted as an ensemble narrative story Of her experience at The Island, Natalie says "The support that ArtSpace LifeSpace provide for the development of contemporary circus is crucial, there are very few places where this is possible. I wholeheartedly thank the team for believing in my work and allowing me to continue creating."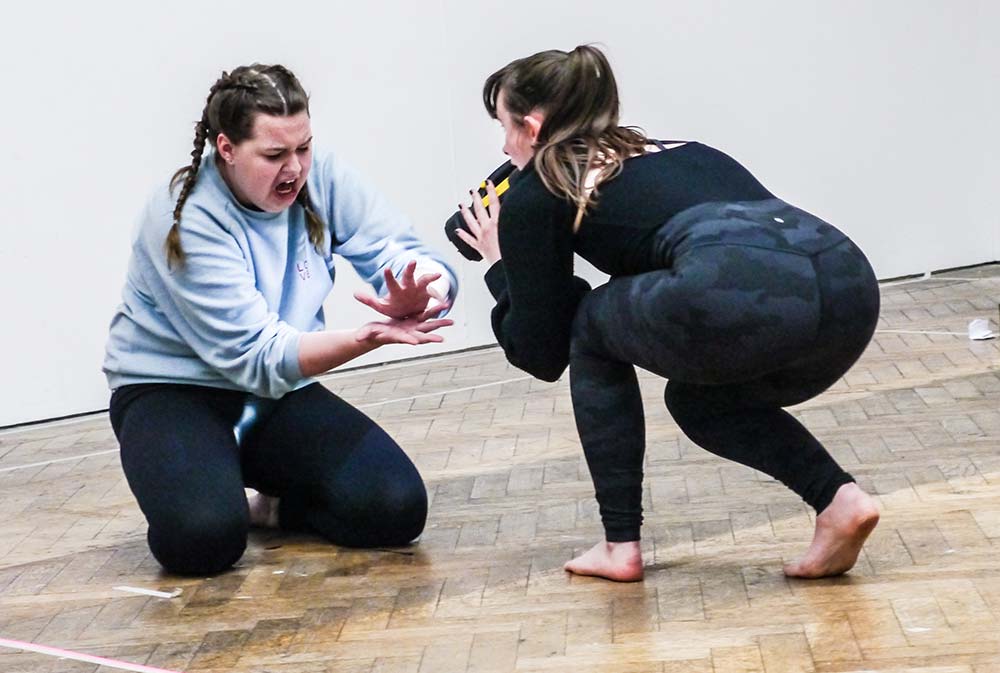 Moon House Theatre
Moon House Theatre make Greek theatre for modern audiences, and in May they joined us to work on 'Neat Freak', a piece using Greek chorus to explore OCD. "The space offered to our company at The Island was truly invaluable. After such a long time of pausing our project due to the lockdowns it was incredible to be offered such a versatile venue in central Bristol. We believe that arts are an integral part of life, of community and spirit, schemes like this allow those who may not have huge sums of money to express their creative souls, share their stories and make an impact. We are truly grateful for our time at The Island and are excited to see what else will be created by other companies in this wonderful space."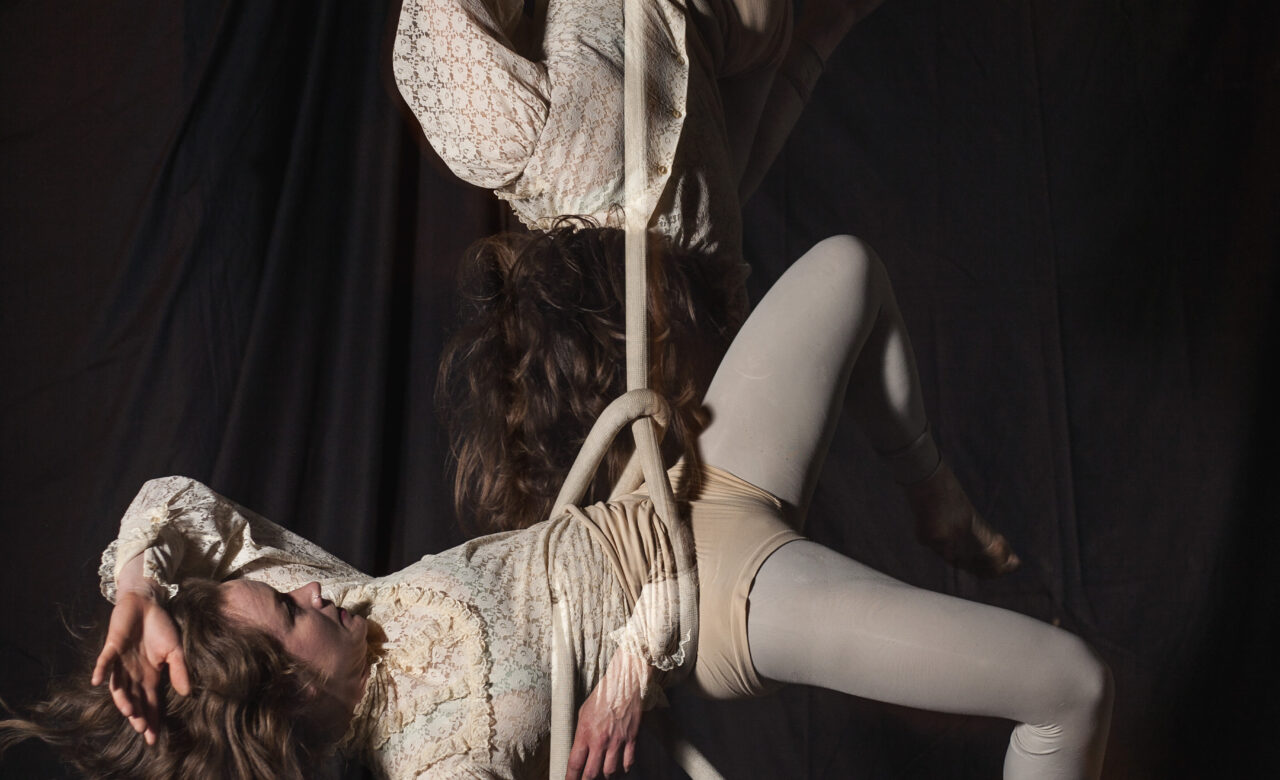 Olga Kaleta
At the end of May, Olga joined us to work on 'Period Drama', a piece combining autobiography, anxiety disorder, aerial rope and physical comedy. "We are incredibly grateful to The Island for the support through their residency programme. The Island is my circus home, a place where I train regularly and where my circus community "lives" (many of us would if we could hehe). To be able to kickstart this phase of Period Drama creation on my "home turf" meant a lot to me! Thank you so much for all the brilliant work that you do!"
Malgrado Urbano
Luca Macchi and Truan Jay Mathias joined us for a residency in mid August, they performed outdoor juggling and jazz within various communities in Bristol. Of The Island's support, Luca says "The Island offered us a supportive and beautiful central Bristol location to develop our show, which is community focused for local neighbourhoods. Artspace Lifespace supplying this space allows us to work with other Bristol based artists with lower travel costs and a significantly smaller environmental impact. It is also inspiring to work alongside so many other talented artists in this creative space."
Raina Greifer
Raina's July residency enabled her to investigate her theatre work focussing on femininity, sex, and consent. Raina works with puppets, spoken word and drag to create dynamic stories. "This residency was a massive stepping stone in the long term development of my performance piece. I got more done throughout my week at The Island than I have been able to do in the last few months! It is so important for makers to have a dedicated space to work with opportunities to connect to the public. The opportunity to perform to a small audience was invaluable, especially considering it has been nearly a year since I have performed long form theatre. I have left the residency feeling inspired with so many ideas and potential avenues for working on my piece further!"
Itta Howie
Throughout August, Itta Howie used our space to experiment with somatic movement, drawing, making, and curating. "Each day I start with a "blank canvas", sheets of paper surrounding me. I close my eyes and feel into my body. I wait. I sense an impulse and am taken on a ride. Some of my dances are minimal and meditative, others involve my whole body and are full of energy. Anything goes, pretty or not, nothing is preconceived. When the movement ebbs away I'm left with a residual energy wanting to express itself in mark making and I draw, write, fold or tear. I place my creation on the wall, giving it space and time to breathe."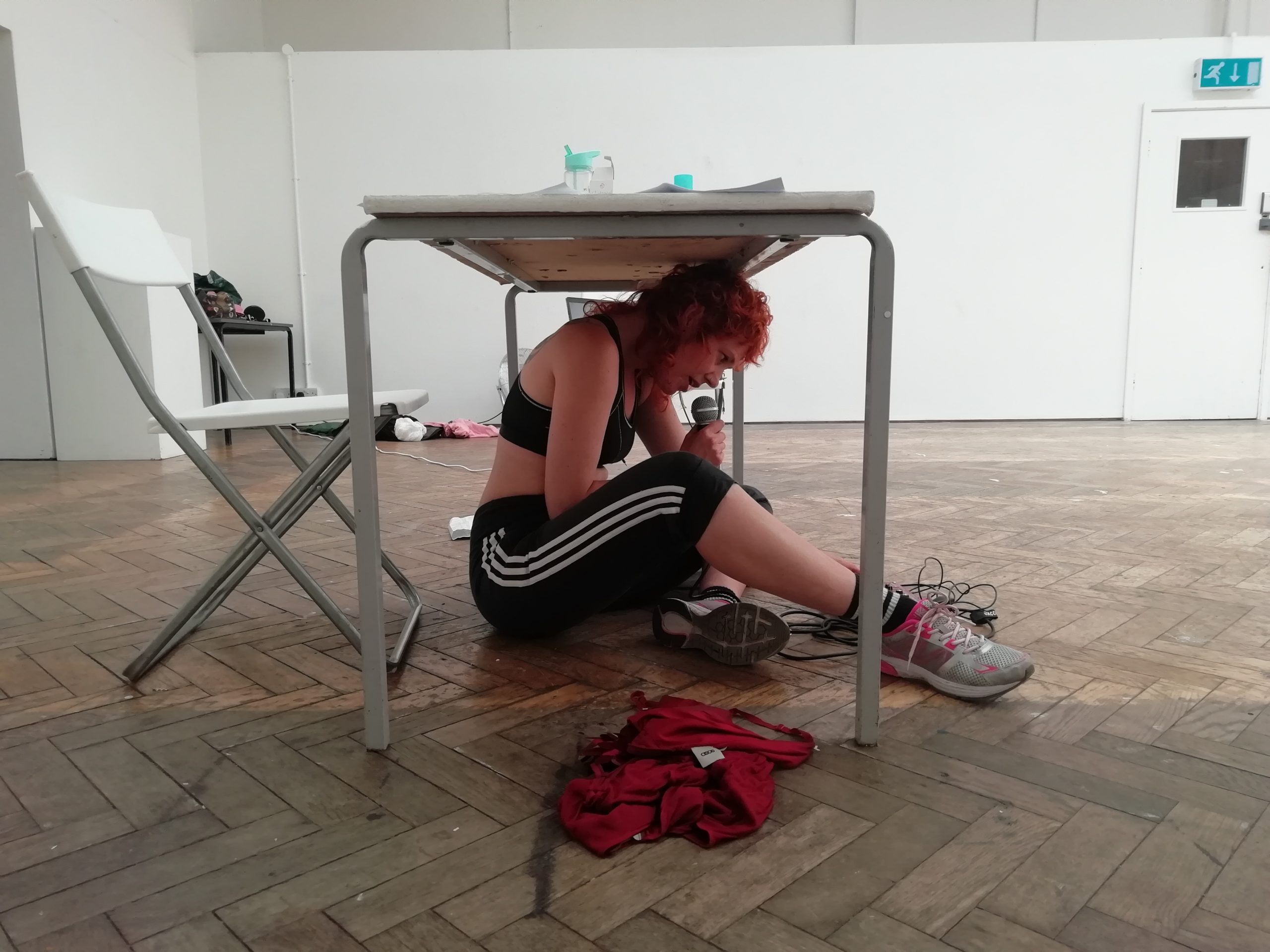 Kat Lyons
In June, we welcomed Kat Lyons for a residency in our Gallery space at The Island where they rehearsed for their upcoming show Dry Season. Dry Season is a spoken word theatre show using the roles of women in fairy tales as a starting point, Kat takes the audience on a journey through a chaotic year of hormone issues, NHS visits, and unexpected camaraderie. "Getting back into rehearsal mode with an artist residency in the Gallery Space at The Island. Massive thanks to Artspace Lifespace for letting me use this gorgeous space. My Spoken word theatre performance, Dry Season, is premiering in London in exactly a month's time (eeeep!) and this space is vital to help get me performance-ready." For support or information on menopause head to the Bristol Women's Voice website.