Inspiral Residency Interview
Last month, Saskia Collyns and Maxine Sircana – the duo that make up Inspiral – held a Residency with us in our Circus Training Space. Here's what we learnt about the adventurous pair.
We are currently working on our first show as a company, 'Interlaced'. We work with narrative-based circus using Aerial Straps, Aerial Hoop, Acro- Dance and Storytelling. 'Interlaced' explores the nuances within the experiences of Neurodiverse individuals. Drawing from our own experiences we use circus to talk openly about the struggles and triumphs. We work playfully embracing our non-linear thinking – which often ends up in a big tangle of limbs, words and equipment. 
The purpose of our residency was to dedicate time to explore and develop 'Interlaced'.  To have a whole space where we could play together, push our ideas, be confused, be surprised was essential to the development of 'Interlaced' but even more so our company relationship. We went into the residency with lots of openness and without the pressure of having to finish the show. The gift of time on residency allowed us to make new material out of total mistakes and also realise where holes in our current material were. We left the residency with a much clearer idea on how we like to create work and we are already looking forward to when we can next do a week of rehearsals.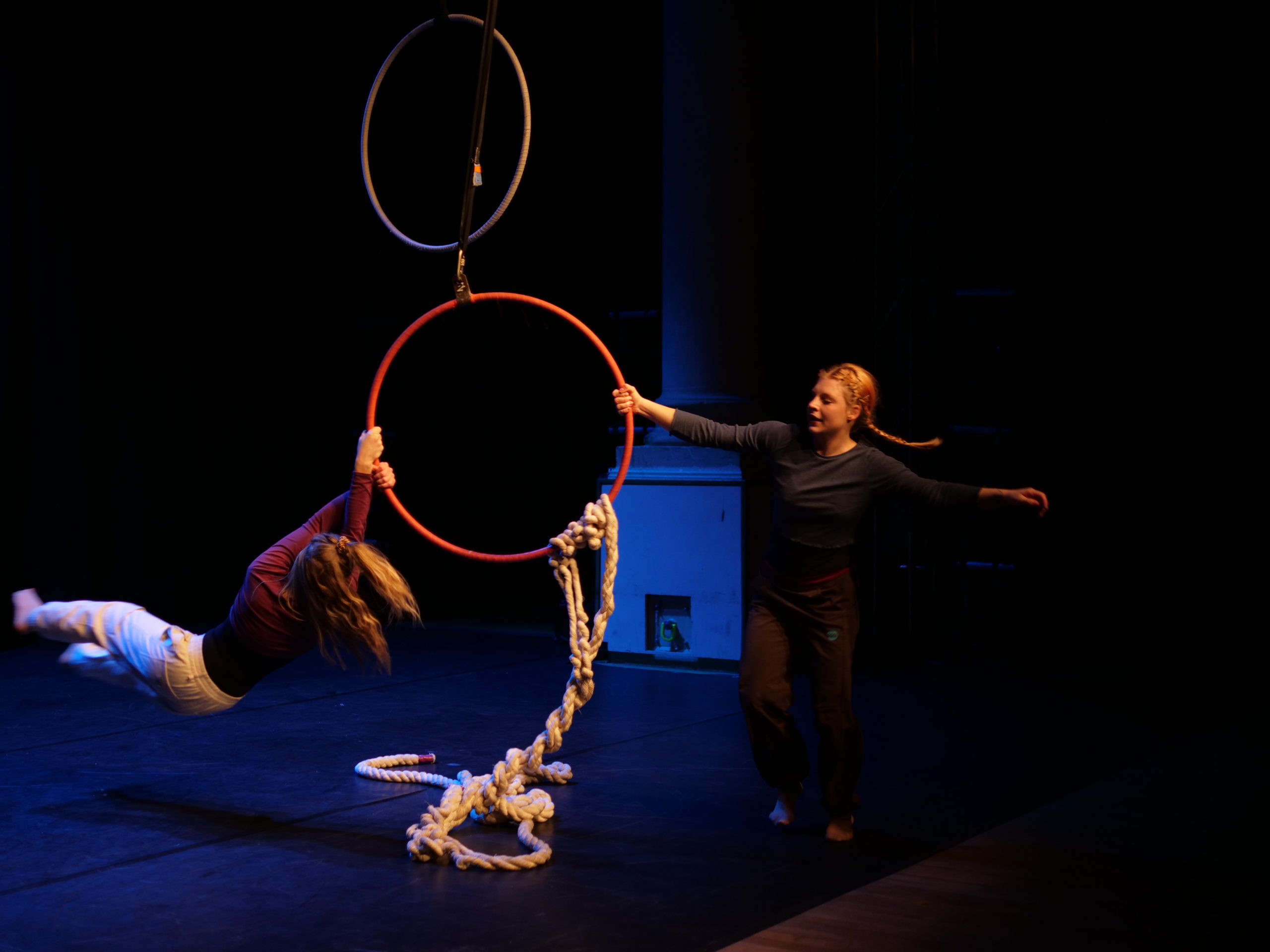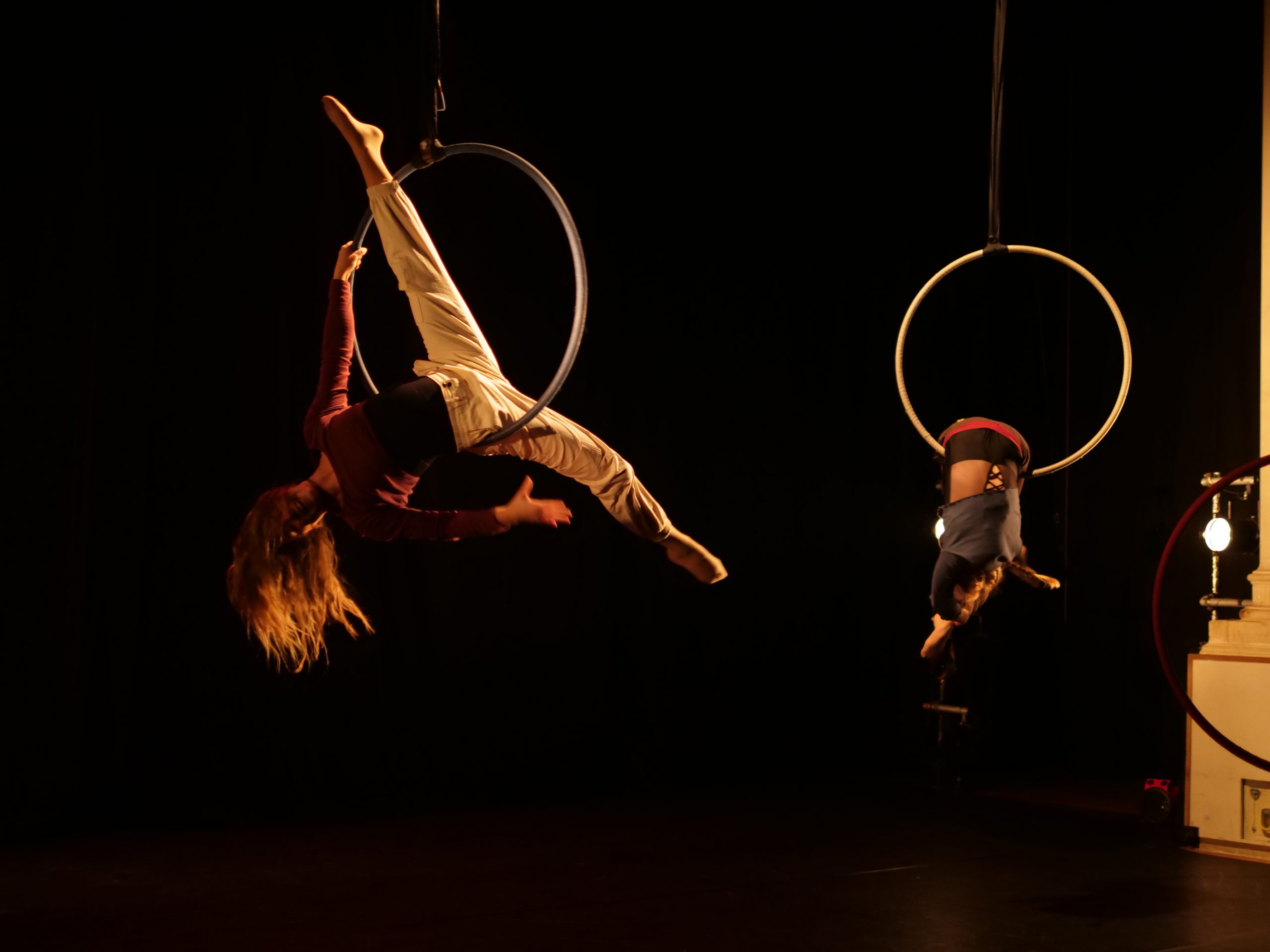 We are aiming to have a version of 'Interlaced' ready for sharing this summer. We hope to perform at some fringe festivals and would also like to find a way to bring 'Interlaced' into education and community settings. We want to keep working together and developing our company and hope to collaborate with other local artists on 'Interlaced'. We are aiming to have a full show made and larger tour ready for Summer 2022. 
In our dream world with unlimited space/time/money we would love to work with the scenography of 'Interlaced'. We would create a bespoke truss rig with many options for Aerial equipment. The Truss Rig would be part of the story telling, almost like another performer. This would allow us to play with the perspective of the audience on a whole new level.
Alongside this rig we would have a team of counterweight bases and stage designers, transforming 'Interlaced' into a highly sensory experience, allowing the audience to be immersed into a physical representation of how our brains work. Oh, and we would have a Sushi team to feed us through all our hard work!

In terms of Aerial tech, we are both lovers of spinning and spiralling. This is more important than certain moves for us. We both love to dance and so the more we can bring this feeling of dance into our Aerial the better. When we work on our doubles the favourite moments are when we are super close together in the tornado of the spin or when you can't tell whose legs are whose. I personally am a bit weird and love anything that focuses on spinning on my armpits or elbows…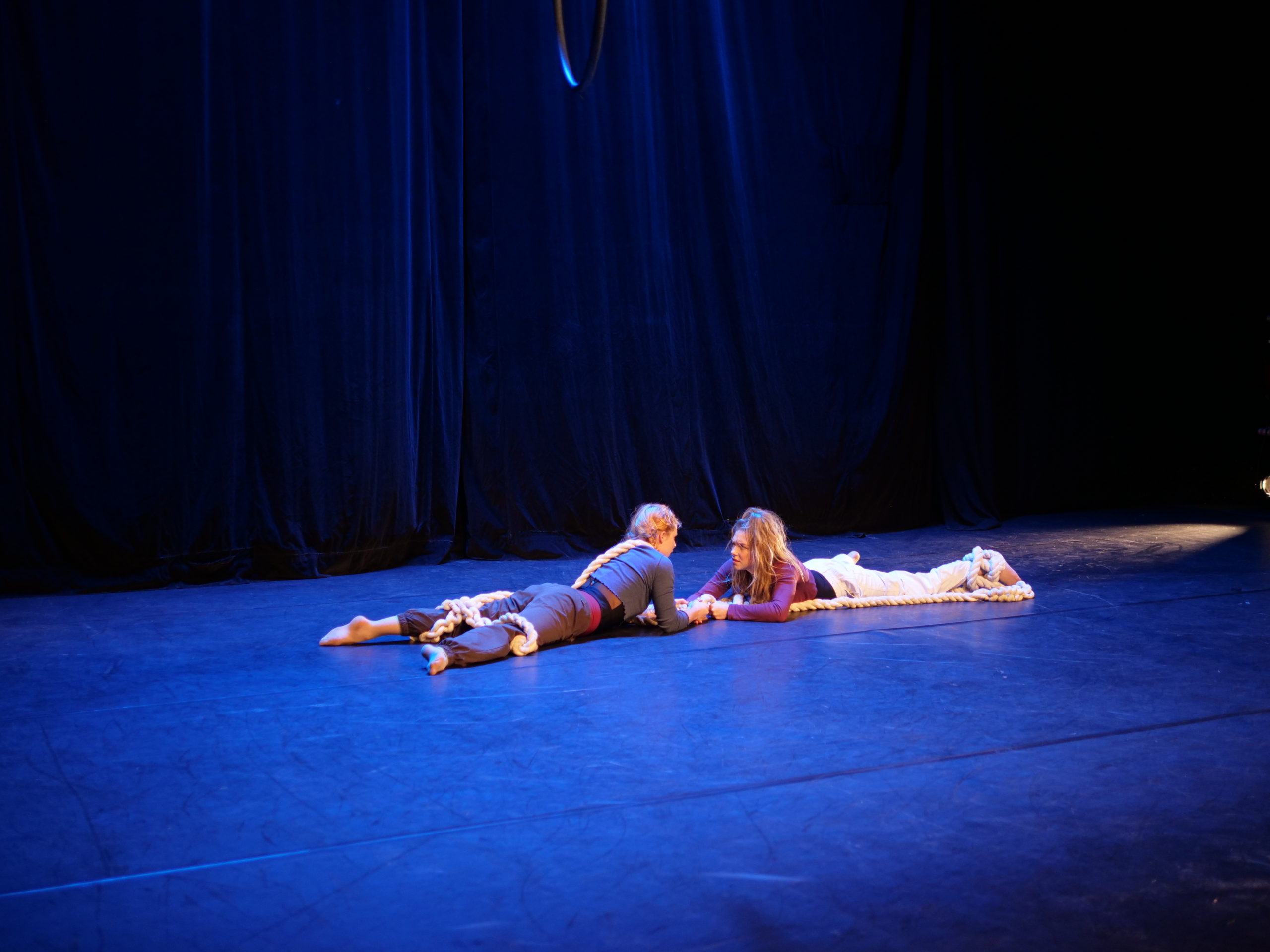 I would say the biggest challenge of working together is when both of our brains break together and the simplest of tasks seem to take us hours. We are quite similar in our confusion so when we get stuck together it's hard to get unstuck. It is always pretty hilarious though and has been the basis of why we made 'Interlaced' in the first place. Often we feel like we are making a clown act…. and maybe that will be the next show. 
Thank you so much to Saskia for giving us the lowdown on her Residency. Keep your eyes peeled for more from Inspiral!