VeraFlow with Emily Fry

VeraFlow is a dance and flexibility class which uses dynamic stretching patterns, balance and stability challenges to mobilise and tone the full body. Stretching is an often-overlooked aspect of fitness, but it can be done in a fun and active way, relieving stress and tension, leaving you feeling amazing and refreshed!
The choreography is set to expressive music, some of which you may recognise. It may challenge your coordination, but many of the tracks will remain for a few weeks to give you the chance to familiarise and master them.
Class also ends with a mindfulness section, an increasingly popular technique for de-stressing and setting the mind at ease. Whilst the class is not strictly a yoga programme, it brings some common benefits and is ideal for those looking for a way to begin their flexibility journey.
Give it a try, the feeling it gives you can't be described!
Level: You don't need to be flexible; we do this to become more flexible and everyone starts somewhere. No dance experience or ability necessary – it's all about the feeling dance gives you!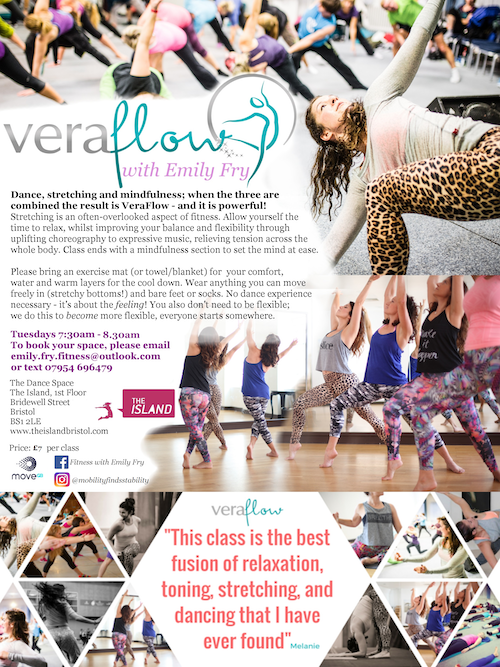 **PLEASE NOTE: you will need to bring an exercise mat (or a towel/blanket) for your comfort, some water, and it is recommended that layers are worn for the cooldown**
Thick jumpers and/or blankets are necessary for the mindfulness section.
You can wear anything comfortable that you can move freely in (stretchy bottoms!) and usually class is done barefoot or in socks, if you are comfortable you won't slip.
Class is led by Emily Fry, a fitness instructor for 12 years with a broad dance background, training in a variety of fitness programmes to date, and a choreographer for the VeraFlow Programme.
£7 per class (in person or online), or book an online session via MoveGB or ClassPass.
Booking is essential, and must be done prior to 8pm the previous (Monday) night to receive a link for the online format or confirmation of space for in person attendance (limited capacity, first come first serve)
Facebook: Fitness with Emily fry: https://m.facebook.com/FitnesswithEmilyFry/
Instagram: @mobilityfindsstablity #VeraFlowBristol
Rest assured, your safety remains our priority. We have put in place a number of guidelines to make sure you can get back to enjoying our brilliant space:
2m social distancing is in place for all classes.
There will be at least an hour break between each class for cleaning and ensuring no crossover between classes.
Everyone will need to arrive and leave in suitable clothing for the class.
Booking and paying will take place before the class (no drop-ins)
We have extra sanitising and cleaning facilities throughout the building, including hand sanitiser points.
And of course, if you show any symptoms, for your safety and for others, please cancel your booking and do not enter the building.