New Beginnings at Ashton Court
Artspace Ashton Court welcomes an experimental new sculpture by artist Luke Jerram in the grounds of Ashton Court in Bristol.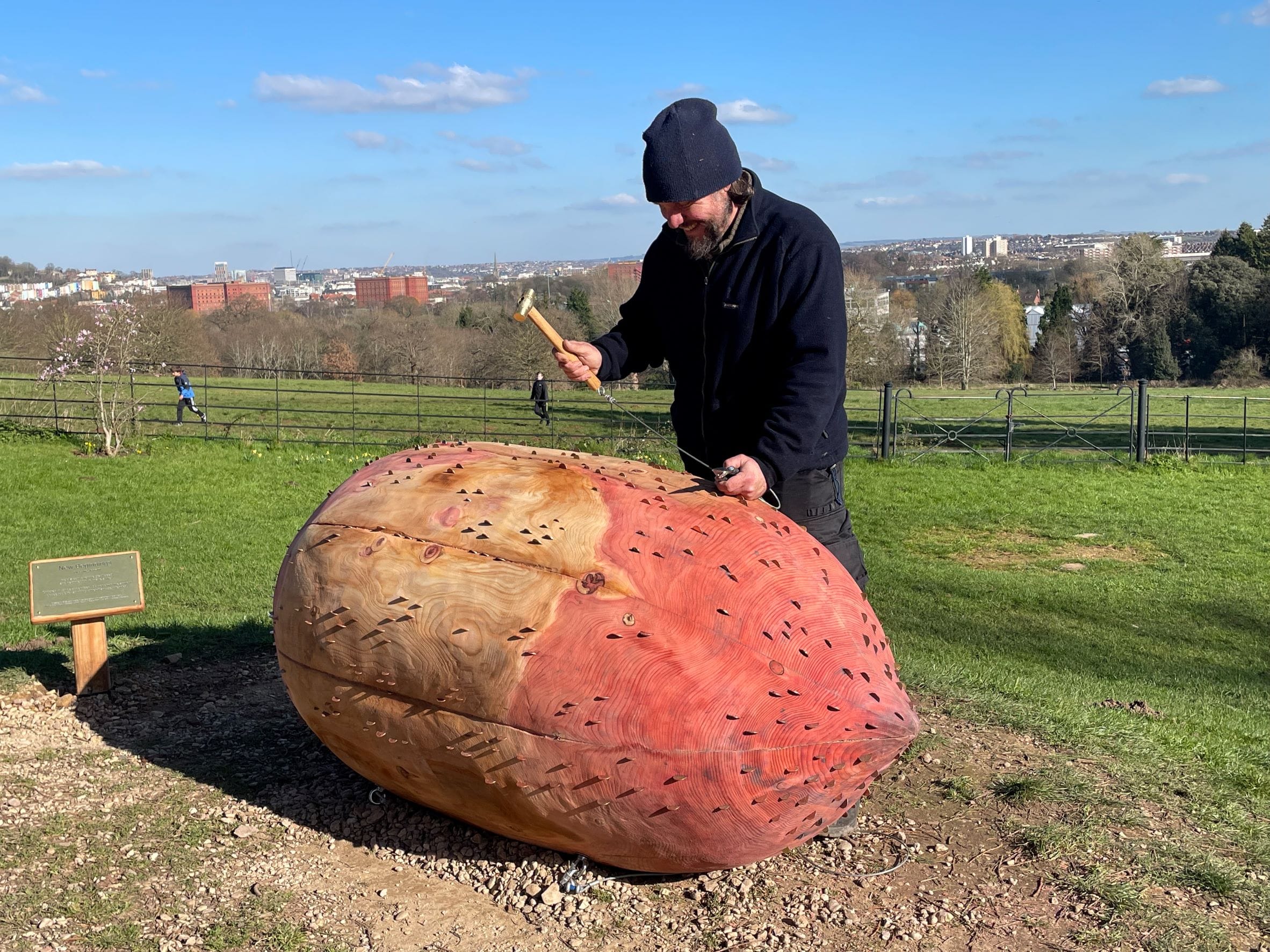 Craftsman Alistair Parks makes a wish,
Situated beside the Courtyard Café of Ashton Court with stunning vistas over Bristol and the iconic Grade I listed mansion sits a giant wooden seed, a sculpture which will slowly be transformed by members of the public making a wish and hammering in a small coin.
Investigating notions of hope, aspiration, superstition, and belief, Luke hopes the coin studded sculpture will gradually become an intricate and complex work of public art.  Hammering a coin into a tree to make a wish is a phenomenon that has existed since Victorian times, rather like flipping a coin into a wishing well.
New Beginnings is the first in a series of coin sculptures to be made by Luke which are animated and completed by members of the public. Some sculptures will be temporary, whilst others will be permanent, creating a slowly changing landmark in the landscape, a destination and focus for public discussion.

Luke said "I love idea of a seed: as a capsule of information and an object of potential that contains everything inside, a plant needs to grow. I hope the public enjoy interacting with this new sculpture and it acts as a capsule of their hopes, dreams and imagination!"
Visitors to the sculpture are invited to hammer a coin into the giant seed and make a wish for the future. The hammer is attached on a chain to the artwork, together with a pair of pliers to hold the coin (and to help save people's fingers!) Adults and Children will enjoy participating with this piece but please note children must be supervised.
Completed in March 2022 and made in collaboration with craftsman Alistair Park the sculpture was made with support from Artspace Ashton Court, a collaborative project launched by We are from Dust and Artspace Lifespace during the pandemic. Artspace Ashton Court launched in Dec 2020 supported by funding from Arts Council England and We are Dust which raises funds to bring inspirational and participatory art out of storage and into the public eye.
Artspace Lifespace Company Manager Kathryn Chiswell Jones said "We were thrilled when we were approached about installing New Beginnings at #ArtspaceAshtonCourt. We devised Artspace Ashton Court with We are from Dust during the pandemic, selecting pieces that focused on reflection, play, the controversy around free speech, equality and transformation. It is more important than ever that we set our intentions of what we want our world to be like going forward. And there is something very satisfying about hammering money into a sculpture, beautifully crafted by Alistair Park who works close by. We are hugely grateful to Bristol Parks team and gardeners for being so supportive, enabling us all to bring these pieces to Ashton Court Estate for the public to enjoy for free. Art galleries can be intimidating and art often feels unapproachable. We want all the art at Artspace Ashton Court to feel the opposite, to draw you in and invite participation. We can't wait to see how New Beginnings evolves over time with all your wishes."
We are from Dust Found Yomi Ayeni said "The participatory aspect of Luke's piece very much fits in with what We are From Dust hoped to achieve at Ashton Court. We want to support this beautiful landscape and create an ever-evolving exhibition of participatory installation art pieces. We will be moving Andrea Greenlees's Transparena to a new location on the estate to give the walled garden time to recuperate following many visitors to Transparena over the winter months and hope to raise more funds to bring more art to Ashton Court in the future. Part of our mission is to display art in public places for people to be able to enjoy for free. This wouldn't be possible without the help of our supporters in America, the support of Arts Council England and donations from the public".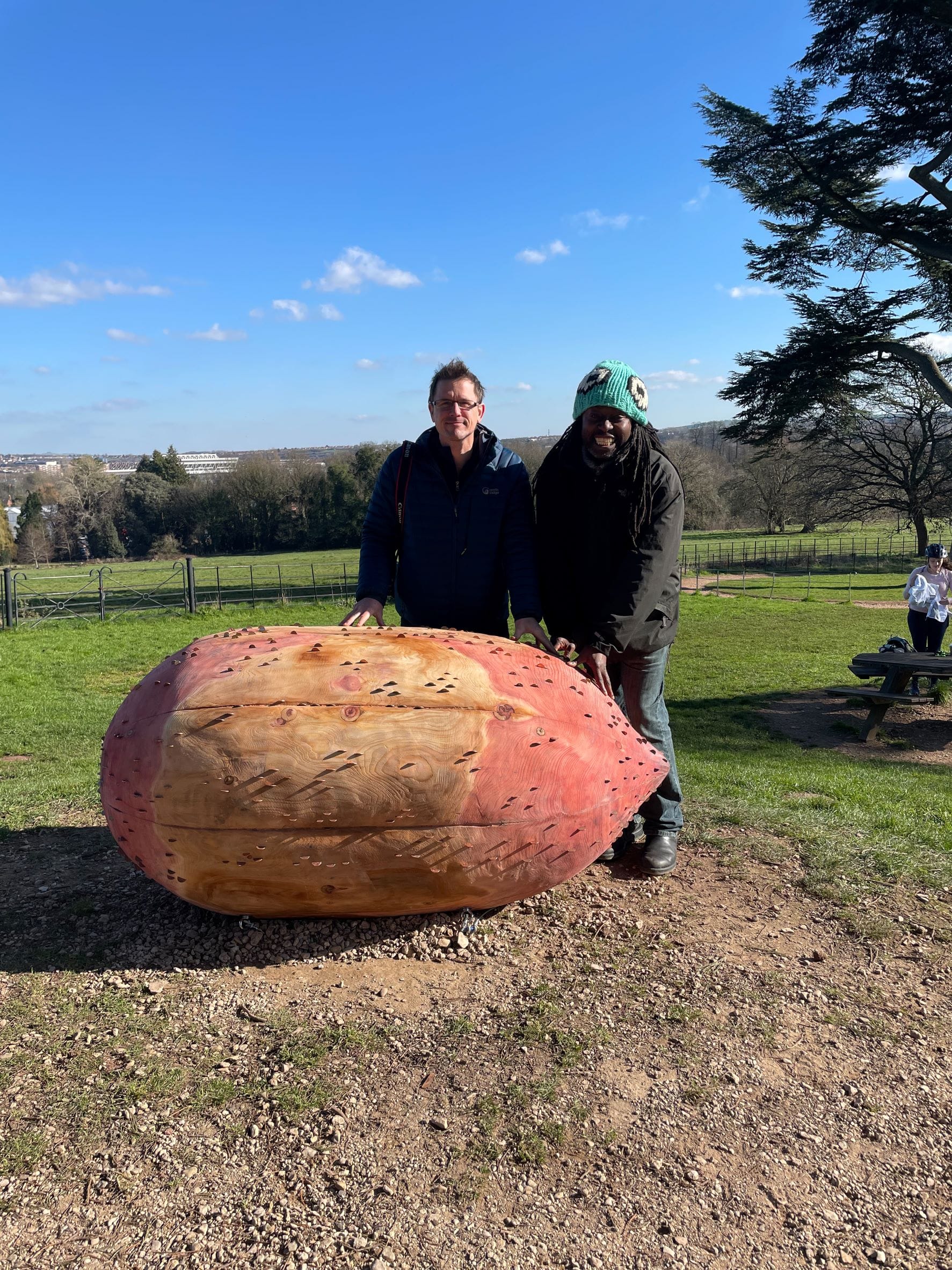 Artist Luke Jerram (left) and We are from Dust founder Yomi Ayeni (right)
Luke Jerram
Based in Bristol, Luke Jerram is celebrating 25 years of working both nationally and internationally as an artist. In Bristol he is known for his installation artworks including the Museum of the Moon, Park and Slide – the giant waterslide he installed down Park Street and The Palm Temple installed at the University of Bristol. In 2020 was given an Honorary Doctorate from the University of Bristol, made an Honorary Academician of the RWA.
More info here: www.lukejerram.com
We are from Dust
We are from Dust are a non-profit dedicated to showcasing art in public spaces. We are from Dust's first artspace was in Point San Pablo Harbour in California and selected Ashton Court as their preferred venue to support in the UK during the pandemic.
Twitter / Facebook / Instagram WAFDust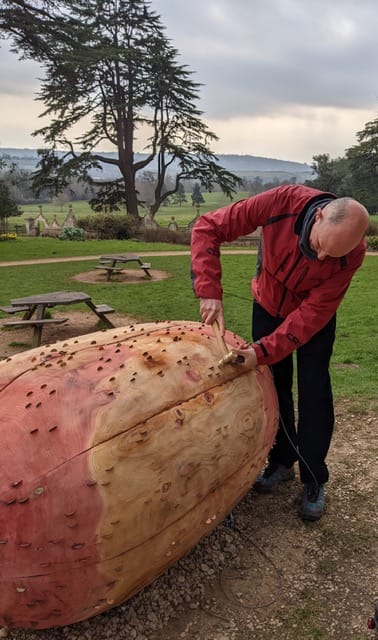 We hope that New Beginnings is just that, the beginning of more fantastic public art at Ashton Court. Artspace Lifespace hope to raise further funding to bring more art to Bristol.
We are from Dust's raise all their money to bring these pieces to the public eye through donations from the public.
You can support #ArtspaceAshtonCourt's fundraising campaign by donating to our Crowdfunder