Artist Encounters
Some of our studio holders met up for a coffee and a cultural exchange, sharing ideas about art, processes, work, and everything in between. Check out the highlights here.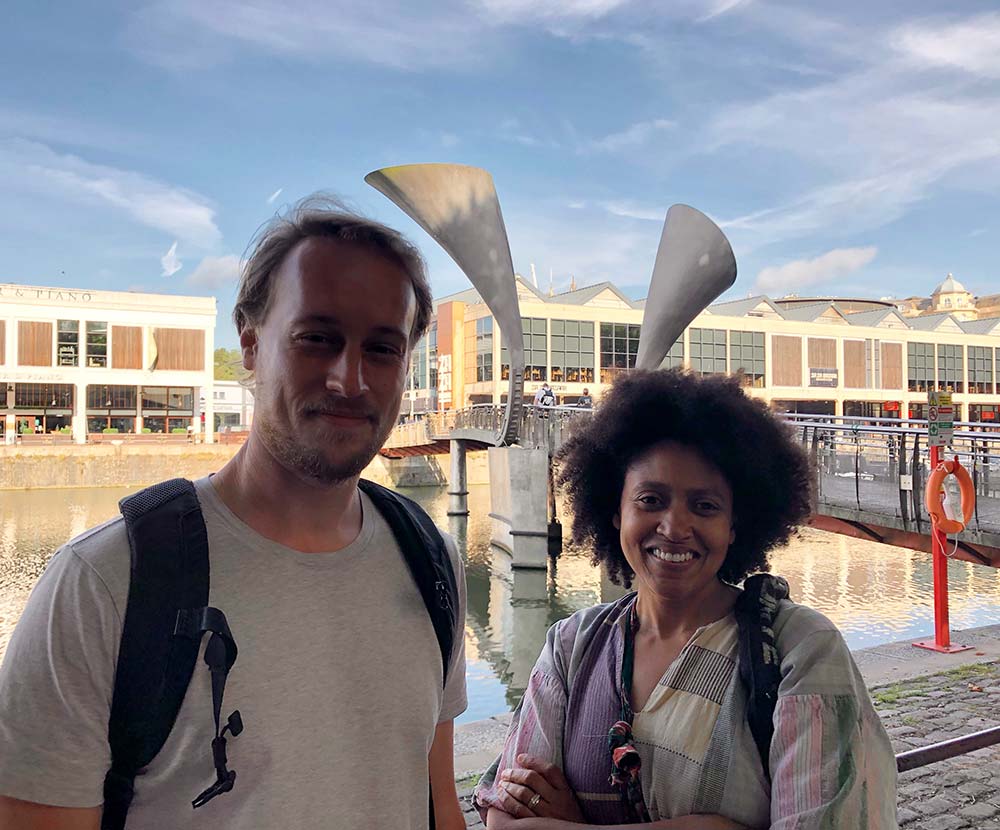 Toby Lennox-Hilton and Yuko Edwards
Toby is a painter who has had the opportunity to live in various countries around the world. These experience outside of the U.K have had a positive impact on his practice. We talked about living and working in Bristol post-Brexit. We both have partners of different nationalities and Brexit has complicated things for us. We discussed the importance of finding a balance between technique and creativity. We are both enjoying our Island studios and getting to know our studio mates. Having both moved into the community quite recently and during Covid, we look forward to meeting more Island artists.
Rhyannan Hall and Lucy Haslam
Lucy – "We met at The Bristolian for a lovely chat and coffee – we'd not met before, so we had a lot to talk about! Rhyannan is a textile artist, working with the Japanese technique Shibori. We talked about Rhyannan's journey from philosophy to textiles, the issues with sustainability, her workshops and exhibition in Japan, as well as the fun unpredictability of using dye and the surprising amount of chemistry involved!"
Rhyannan – "It is always energizing and exciting to meet other creative people, and I loved seeing inside Lucy's sketchbooks. She does lots of very rough and fluid sketches, and then incorporates these idiosyncratic jitters of the hand into her final works. Her drawings have this quirky and delicate quality to them – the characters she creates are very endearing and I wanted to cuddle them."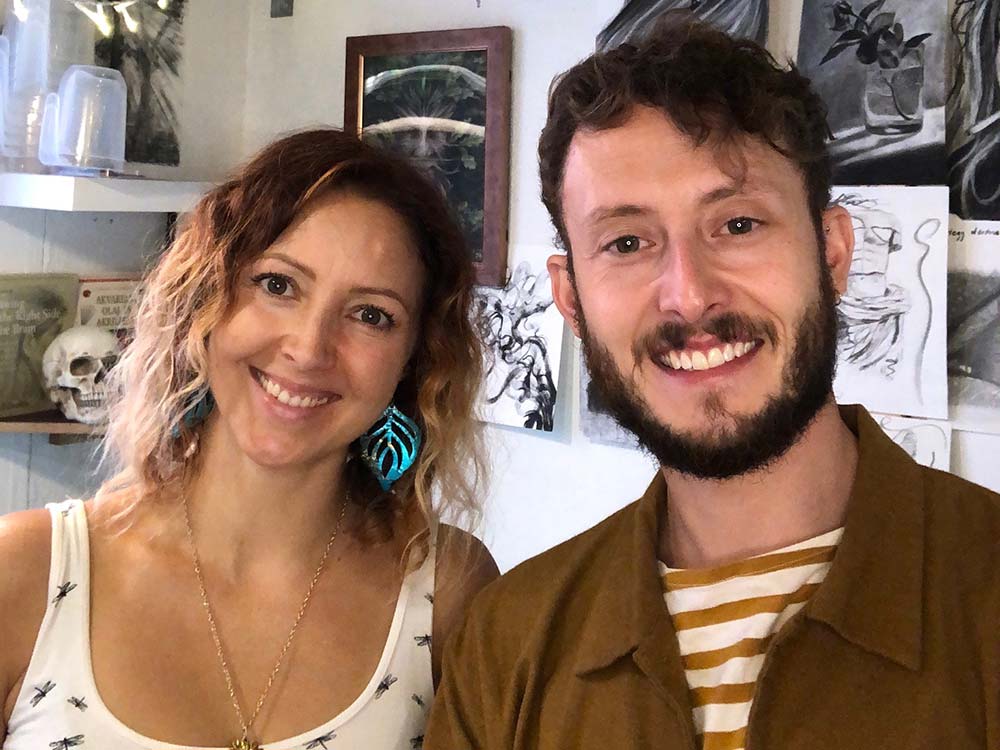 Simon Hall and Jeanette Wilhelm
With our studios situated just next door to each other, it was lovely to meet for the first time and show each other around our spaces, especially as we've both started at the Island in the past year. Jeanette recently remotely studied the mastery programme at the Milan Art Institute in the US and produces mixed media panels utilising elaborate textures and materials including resin. Her inspirations stem from organic patterns and the beauty of nature. Simon is a doctor who also works as an artist. His works centres on the portrait and often works with patient groups to explore healthcare narratives through the arts. We had a smoothie in the sunshine together and spoke about our current work, upcoming projects, and shared interests. We found it a nice opportunity for connecting and look forward to more opportunities to meet the island community.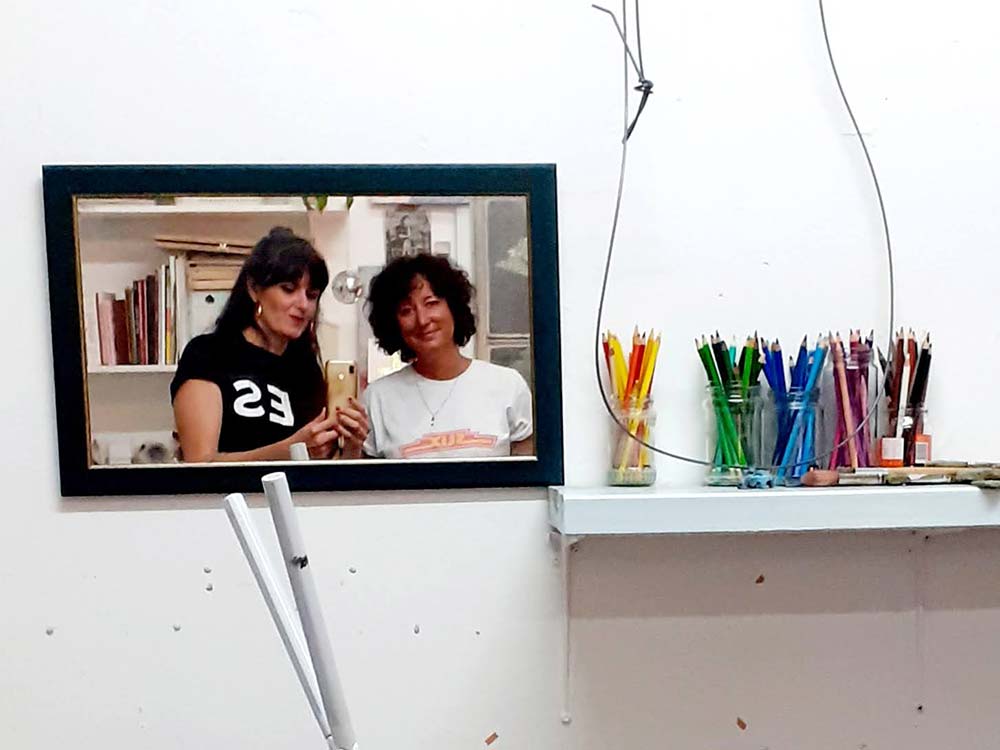 Leticia Vega and Caroline Higgins
What a great idea you had organising these meetings! I'm so happy I met Caroline. I couldn't have found a better "artist-match" myself. The idea of meeting someone you don't know to talk about theirs/your art is already wonderful, but Caroline is an outstanding artist whose work I love. I felt so lucky to have the opportunity to have a close up look at her artwork, and the opportunity to know the stories behind some of her paintings – I truly enjoyed that. We told each other how we ended up painting, what we do with our work and what we get from it, how we present it "to the world" (if we do) and where. We talked about exhibiting, the impostor syndrome, painting techniques and how you never stop learning; the process of creating a painting and how do you know when it is finished. We also discussed the topic of how having a job apart from your art can give you creative freedom. And we also were just two women talking about their personal stuff, because that always influences your artwork.
Roberta Pia and Chandra Prasad
Surrounded by some amazing old school cameras, Chandra and I met in his beautiful photography studio and chatted about his work, what he likes to take photos of, and the projects that he's currently working on. We also talked about Bristol and how creatively inspiring it is – we both ended up here on a whim but seems we both similarly fell in love with the place (which, let's be honest, isn't difficult)! We took some photos in the studio before heading down to the cells (aka DJ Discobobulator's Neon Den). We spent some time in here talking about Grrrl Crush, gigs and music lessons and took some photos with Chandra's fisheye lens. After that, we wandered to get coffee. As the new kid on the block, it was lovely to meet one of my studio neighbours.It's always massively inspiring for me to see what other people are creating.