LOVE BITES – A PHOTOGRAPHY EXHIBITION, 24 – 26 / 11
Inspired by the photography projects of renowned artist, Sarah Bahbah, and born from a place of complex imagination, Love Bites is a the latest photography series from artist and filmmaker, Oscar Wenman-Hyde.
Set in an alternate world, Love Bites examines love through the darkest lens. Throughout the six chapters, we embark on a journey with a couple who are deep within an expired relationship and they must find the strength to leave before their love consumes them. Created in collaboration with Gloucester based make up artist, Tara Page, the characters endure a deathly transition from lovers to rose embedded, Vasculents.
Throughout the six chapters on display, Love Bites poses the question of when love dies, how far do you go to keep it alive? Our antagonists lead this unspoken debate by questioning their moments of intimacy and, without having the courage to end this chapter in each other's lives, they end up losing more than they had bargained for.
Whilst many of the themes in the photography series are universal and relatable, Love Bites aims to bring to light the emotional toll expired love can have, not only on the heart and mind but also on the body. By using metaphoric visuals to tell the story, Love Bites is an exploration into the depths of the human psyche, to determine whether love ever gives more than it takes.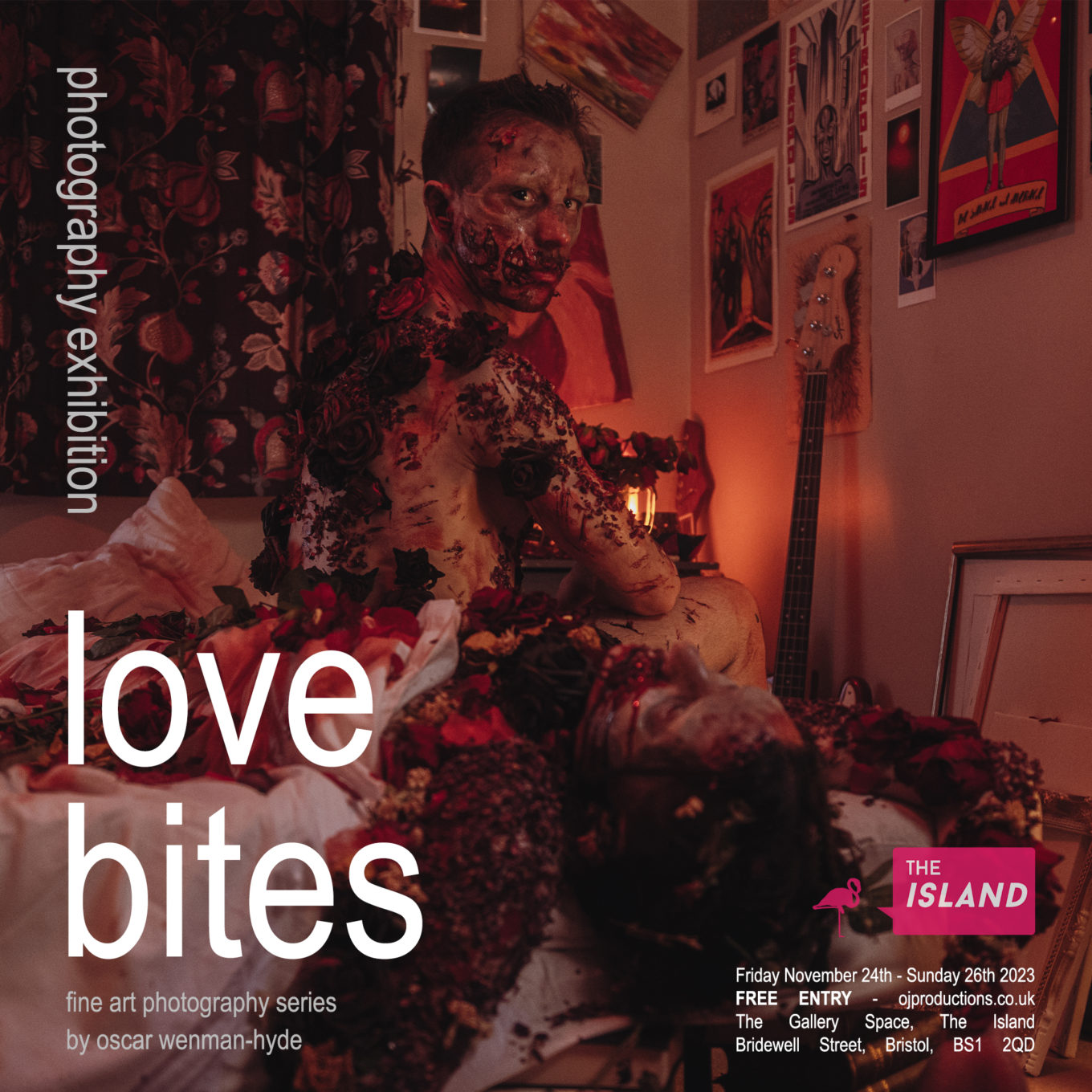 Friday 24th November: 12:00pm until 22:00pm (Launch event from 18:00pm until 22:00pm) Saturday: 11:00am until 18:00pm Sunday: 11:00am until 18:00pm
Starring: Alex Vass & Beatrice Fletcher Hair and Make Up Artist: Tara Page Hair and Make Up Assistant: Lucy Ioannou & Lewis Sharpe Production Designer: Mae Ferrie Set Dresser: Nathalie Canvin Intimacy Coordinator: Jade Wenman-Hyde
Written, Produced, Photographed and Directed by Oscar Wenman-Hyde