Graham Intensive with Herbert DesLauriers Morning Class
Herbert DesLauriers' – Martha Graham Contemporary Dance class starts with a breath… the breath realises the core… a strong core manifests the energy to create the resistance and fluidity in dance movement. Herbert's Graham based, modern dance class trains, strengthens and prepares the dancer for many genres of dance. The class is open to all levels and will begin with the Martha Graham basics starting with floor work. This is an excellent opportunity for dancers of all levels to either be introduced to or continue the pursuit of the Graham technique.
£ 10 p/hr in person
Get in touch for more information or to book: hdeslaur@gmail.com
Herbert was born Germany. He earned a degree in stage dance and choreography from the Amsterdam University for the Arts. He continued his training in New York City with Alvin Ailey and Martha Graham dance schools.
Herbert spent many years dancing with Tanzatelier (Sebastian Prantl) in Vienna, Austria as well with the A.L.M. dance company in Graz Austria. He has also danced in many industrial shows throughout Germany and France. His choreography has won awards at the Kaliz Poland Dance Festival. After moving to Cologne, Germany, Herbert began working in performance art through dance movement. He performed and choreographed for Pollman's Cologne and Position Dance. He has also choreographed for various dance schools throughout Nordrhein Westfahlen.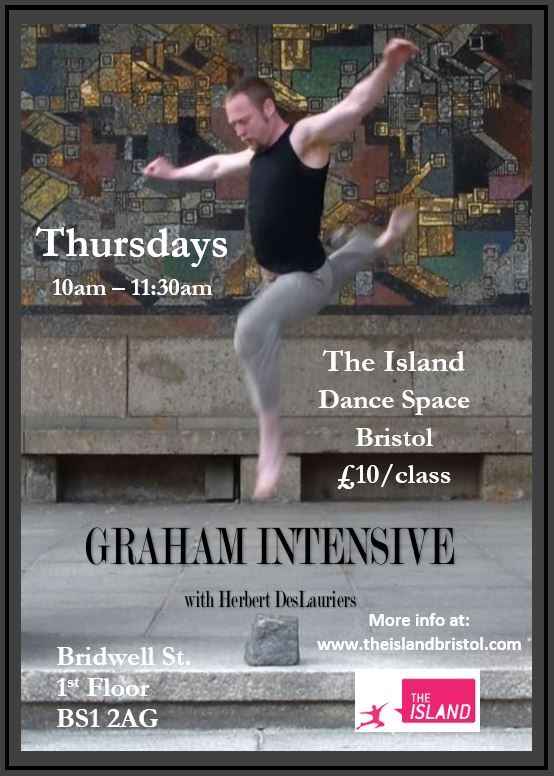 Herbert has taught throughout the central Germany area—primarily in Cologne and Düsseldorf. His main teaching styles are the Martha Graham as well as Lester Horton techniques. He believes in instilling a strong core-based technique to encourage a dancer to pursue many different styles an to continue dancing for many years without injury.
Before relocating to Bristol with his partner, he was and still is performing with a performance art group in Cologne, Düsseldorf and Berlin, Germany. His creation of the Stock und Stein Project (Stick and Stone Project) interweaves the artistically polished branches from trees, architectural stones from the Rhein river and the classically trained human form creating a unique type of dance expression. In May, Herbert will premiere a new dance piece for the Bristol Opera's production of Cavalleria Rusticana.
There are no Covid-19 restrictions in place in present. Please stay at home if you are ill or if you are unable to stay home, wear a mask to protect others around you from illness.