Annette Curtain's Big Blow Out, 1st December, 7.30 – 11pm
Kick off the festive season and join Annette Curtain (Tom Marshman) and friends at Ashton Court's Art's Mansion on Thursday 1st December.
Your favourite nosy neighbour has 'borrowed' the keys to the Mansion for a gossip and a sing-a-long or two. She'll be picking up some friends from Old Market in the community minibus with songs by Red (the artist formerly known as Carmen Monoxide), speeches by the ghost of Liz Truss, dances by Roseanna and Josh from Impermanence and a bit of rough with Dwayne Pipe. Buffet and pudding tombola provided by Sh*t Quiz, the finest in British tapas.
The event is advised as suitable for those 16+
If you'd like to come to the event but the cost of the cost of a ticket is a barrier, please do get in touch with us at artsmansion@artspace.uk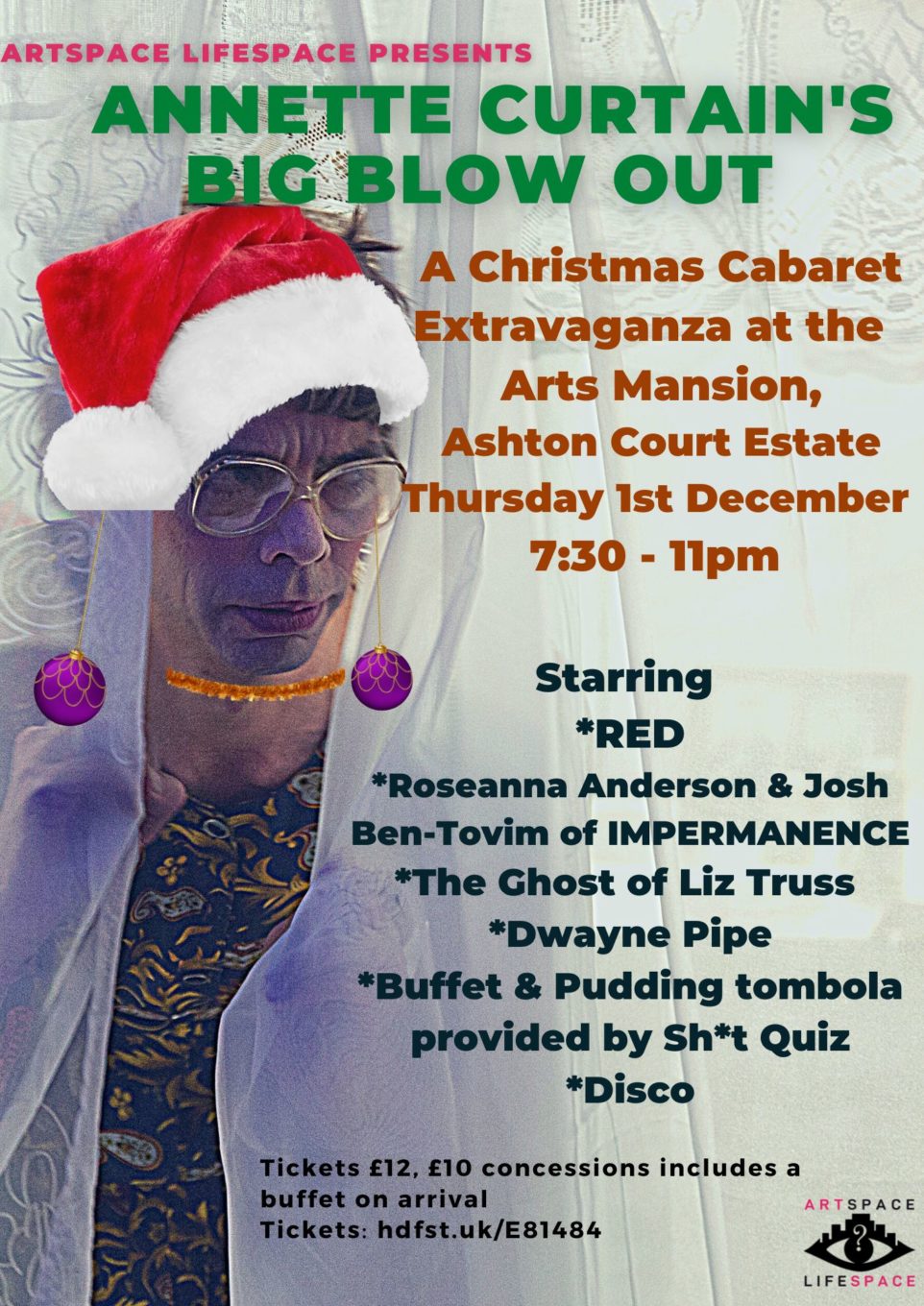 A light Buffet will be available when you arrive at the Mansion which is part of a performance, we recommend eating a light meal before you arrive. Dietary requirements such as gluten free and vegan will be catered for.
The Art's Mansion is a step-free venue and fully accessible venue, to discuss access requirements please email artsmansion@artspace.uk
Address: Ashton Court Estate, Long Ashton, Bristol BS41 9JN
Our Main Entrance is the opposite end of the house from where the cafe is.
Cycling
The National Cycle Route 33 – Festival Way Go to https://opendata.bristol.gov.uk/explore/dataset/sustrans-cycle-network/map/?location=15,51.44826,-2.63597&basemap=jawg.streets (opens new window) goes through Ashton Court Estate.
Public Transport
Take the X3 excel or X4 excel bus from the city centre, 10-minute walk from the bus stop to Ashton Court Estate Mansion House car park, or take the 8 to Clifton and walk across the suspension bridge.
For further information see the First Group website.
Walking
You can walk to Ashton Court from:
Clifton across the Clifton Suspension Bridge
National Cycle Route 33-Festival Way
If you're walking in low light: avoid wearing dark clothing,bring a torch with you
Parking
Mansion House car park: 10 disabled parking bays
The car park officially closes at 5:15 so will be opening especially for the event, therefore you will not be expected to pay the car parking fees.
Taxis
If you are using taxis to get to the event please use the postcode BS41 9JN
We encourage lift sharing and travelling together.