Winter Warmers: James Morton's Porkchop Jazz Night
Winter Warmers: An Alternative 12 days of Christmas
Thursday 9th December
Arts Mansion, Ashton Court Estate, BS41 9JN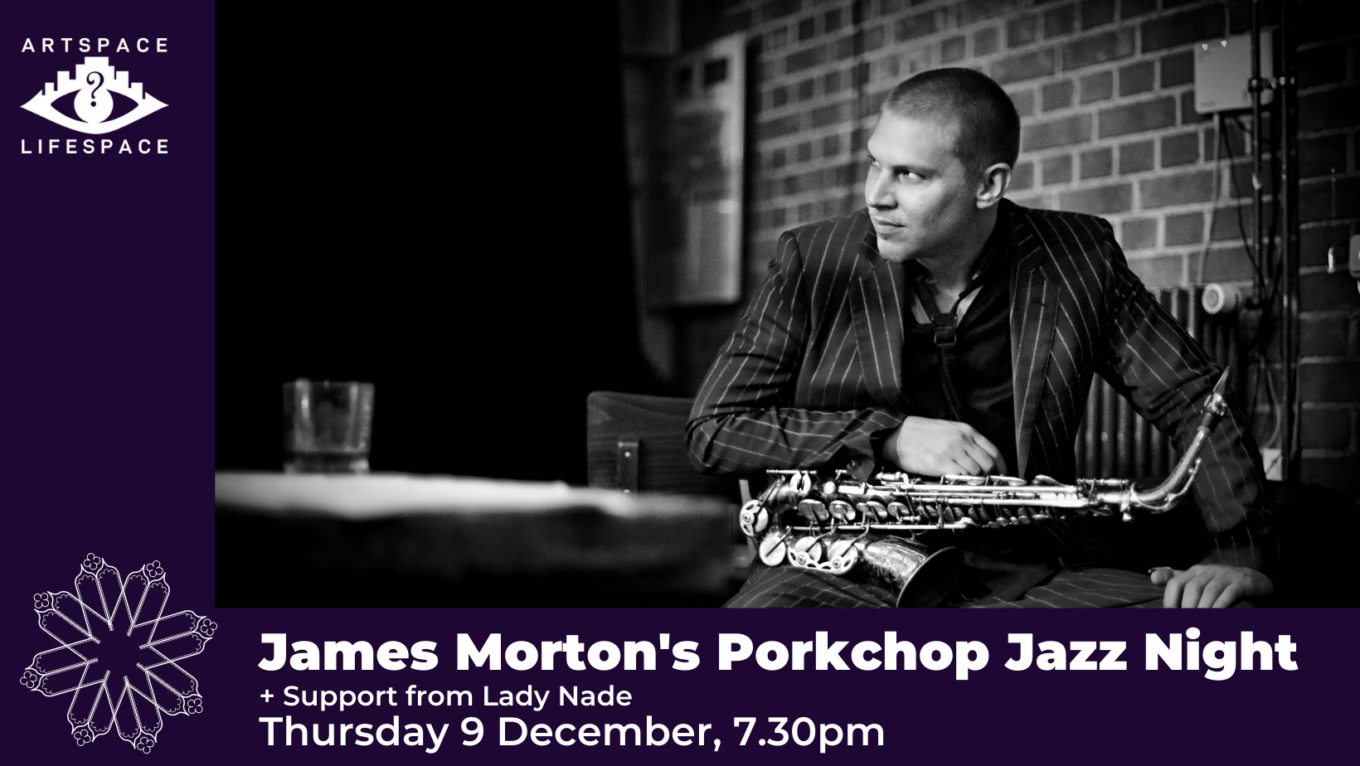 Arts Mansion presents: Winter Warmers, an alternative twelve days of Christmas – 12 evenings of entertainment featuring wide ranging eclectic acts to help you shake off the winter blues and keep you warm this winter.
On the sixth day of Christmas, Arts Mansion presents James Morton Pork Chop and The Spotlights -lady Nade
James Morton's Porkchop is a sax lead Hammond organ quartet formed in 2009.

Drawing from the inspiration of Jazz, Soul, Gospel, New Orleans, Funk and the "Blue Note" recordings of the early 1960's James Morton's Porkchop is a heady high energy mix of all of these influences, with lyrical sax, the unmistakable soulful sound the Hammond organ, flaring guitar and driving drums. James leads from the front and is one of the most exciting saxophonists of his generation having worked with some of the most prolific artists in the world today over many different genre's including: Fred Wesley and The New JB's, Pee Wee Ellis, Tony Allen, Kasabian, NPG Hornz (Prince's horn section), Raphael Saadiq, Pendulum, Jazz Jamaica, Angelique Kidjo, Ce Lo Green, The Herbaliser and Roni Size to name just a few. James' unique lyrical and rhythmic style allows him the ability to directly "speak" to his audience conveying a strong sense of emotion that really connects with people and is what makes him such a special and in demand player. All members of the group are world class internationally touring musicians.

The album "Don't You Worry 'Bout That" was released in the UK on Fresh Ground Records in 2010 to critical acclaim. Later on in 2010 the album was signed by Munich based Record C.A.R.E. Music and released extensively across Europe and beyond.
Support act is The Spotlights – by Lady Nade who is an Eclectic Americana Folk Singer and Songwriter – Soothing words and melodies that nourish the mind and body through life's complicated tapestry
Arrival Info:
Address: Ashton Court Mansion, Ashton Court Estate, Long Ashton BS41 9JN
About: The Arts Mansion (Ashton Court) is now an inclusive multi-use arts venue for Bristol and North Somerset facilitating art, theatre, performance and community activities in Ashton Court.
How to get there:
Directions to Ashton Court Estate (North Somerset) with public transport – The following transport lines have routes that pass near Ashton Court Estate:
Bus: X3a, X3, X4 leaves from Bristol city centre (opposite The Hippodrome) every 11 minutes, Last buses return at 10.22pm and 11.22pm link to times here. Once you are dropped off at Clifton Lodge it is a 5-10 minute walk up to Ashton Court Estate. To find out about the latest on the roads and get comprehensive travel directions by public transport please visit TravelWest.info
Parking:
There are free car parking spaces at the Mansion House car park: including 10 disabled parking bays. Please car share, use public transport, taxi and cycle wherever possible as car park spaces in the main car park are limited. There are overspill car park options nearby which will require a 5-10 minute walk up to the estate. Please arrive in plenty of time as there is another event on until 8.30pm and it may take take a little more time getting here and finding a car parking space as there is another event running at the same time.
FAQ
Taxi pick up and drop off point is in front of the Ashton Court Cafe area. Once you arrive you will be directed to the right hand side of the building and walk through part of the Light Up Trail and will be guided to the West Lawn Entrance (opposite side to the cafe).
Bristol Light Up Event – There is another outdoor Light Up Bristol event happening in the grounds of the estate between 4-8.30pm from 19th-24th December. Please note there will be stewards checking tickets when you enter the estate. Please show proof of your tickets and they will guide you to a car park space and the entrance of the Mansion as here is will be a one way pedestrian system in place.
Disabled access – There is disabled access to the Mansion through the West Lawn entrance. Please inform us if you require assistance, if you are coming with a support/ carer they do not require a separate ticket. Please let us know if you have any access requirements prior to your visit with us.