TRANSITIONS
Artist: Cjay Roughgarden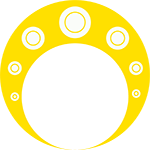 Zlatìčo created in 2018, is inspired by the work of Alfonse Mucha. It is a phrase that means "little gold," and is used as a term of endearment, such as "sweetheart." Taking inspiration from natural forms, and structures, artist Cjay creates simplified abstractions of primary organic materials or the shape of motion. She draws on the geometric harmonies humans are hardwired to find pleasing, due to their proliferation in nature and the cosmos.
As a person with Czech lineage Cjay enjoyed connecting with the art of one of her ancestral homelands and bringing it out of the conceptual, two dimensional realm and into life where people can interact with it. This past year has challenged human connections, walking through the arch represents transitioning from a place of solitude and looking inward to rekindling those human connections and being reunited with our loved ones.
Artist
Cjay Roughgarden is an Oakland, California based artist and professional metal fabricator. Her primary mediums are steel, aluminum, and brass.
www.cjayroughgarden.com
@smoothgarden
Location
Grass in front of the South West Wing stair tower.
#Transitions #CjayRoughgarden