ACTIVISM
Artist: Hugh Farmer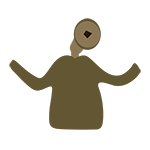 Movements, organizations and activists congregated online to support each other during Lockdown and push for change in new and creative ways, with increased collaboration and sharing initiatives, support and resources to respond to the COVID-19 crisis within the activism community at large via webinars, conferences, training tools, and crowdsourced online documents.
A crowdsourced research has documented over 140 methods of non-violent action during the pandemic, showing that people power is flourishing within this unprecedented global crisis.
We selected Bristol based artist Hugo Farmer to represent this activism, his works are based around the theme of our human rights and in particular freedom of expression.
Bristol born Hugo Farmer is an artist and sculptor and has worked as a boat builder, carpenter, sound engineer, producer and set designer.
http://hugofarmer.com/@hugofarmerart
Location: Ashton Court Mansion South Front
ActivistArt #FreedomOfSpeech #HugoFarmer